How To Travel With Your Designer Bag On The Plane ?
MARIE-HELENE STAVELOT
We all love and need (at some point) a good vacation. Whose eyes do not sparkle at the idea of sipping flamboyant drinks in front of an azure sea? Few people.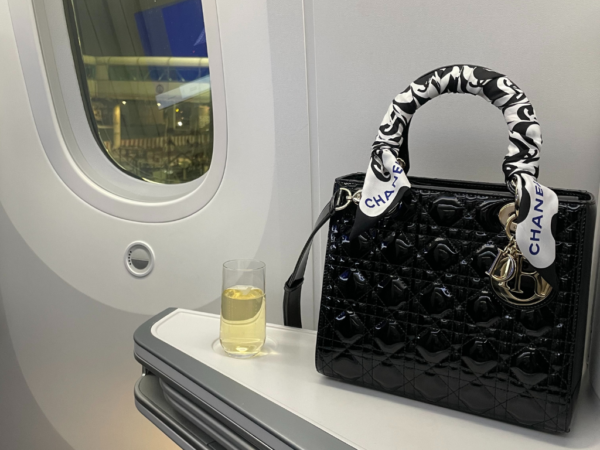 The current sanitary crisis had, unfortunately, changes our habits when it comes to traveling. Between wipes, sanitizers, and masks, we have to take extreme care of ourselves when crossing borders. But something that did not change is taking care of your luxury bag!
We know. You love to wear nice things too. Don't we all? Especially when strolling through the airport, donning your best comfy attire with cute sneakers and, of course, your bag. However, traveling makes you go through the hassle of airports and crowds. It poses many hazards for bags especially.
A reminder. Handbags are investments. Don't forget that your bag's condition is what will determine its future value. Keeping it safe is crucial.  
Airports are among the riskiest places for luxury items, and attention to care can go a long way. Here are the highlights of our travel tips to keep your handbags as safe as possible while traveling.
Cover it up with a dust bag
Your designer handbag likely came up with its own dust bag. Before going through the security scanner, wrap it up inside it. It is also useful when you put it in the overhead bins or storing it underneath the seat in front of you. Airports are also known to be far from the cleanest spaces; thousands of people pass through them every day, exposing you to germs and all kinds of dirt. Avoid placing your bag on surfaces, and if you must, protect it with the dust bag as it will keep any dust and grime away.
Bring your tote bag
One of the best ways to travel is to carry a tote bag in addition to the bags you are taking already. Tote bags' purpose is to carry as many things as they can. You can find spacious and lightweight models, ideal for stacking smaller bags and bring them all easily. Fabric-like canvas or denim are great and firm enough to carry heavy weight inside and stuff to capacity if need be. This is effortless, and this a bag that can use for literally anything. 
Never ever check in your designer bags
Keep your precious items close to you. The best way to carry your designer bags is by placing them on top of your carry-on. It will keep them away from dirty surfaces. As soon as you reach your airplane seat, push it under the seat in front of you if possible. Sure, overhead bins are certainly more generous space-wise. But the last thing you need is someone crushing your precious bag with their bigger and clunkier hard body carry-on.  
Keep your valuables bags in your carry-on
Still worried about any potential stains or scratches? Then you can maximize the space in your carry-on and lay all the bags that your heart desires down. Packing can be a bit like a puzzle. It is all about utilizing your space efficiently and playing around with different arrangements of items. But if you master the art of packing well, you may be surprised by all the space available and bring more than you would think. "Nesting" or placing one bag within another can save you a tremendous amount of space as well.
Whether it is about going on long holidays under the sun or coming back from a business trip, always keep your handbag the closest to you during your journey. Hopefully, these tips will help you travel a little more efficiently. Show us your purse and carry-on travel pictures by tagging us on @reluxable. Wishing you happy and safe travels.